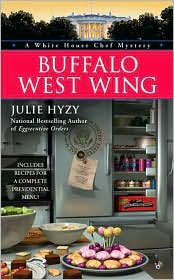 With a new First Family, White House executive chef Olivia Paras can't afford to make any mistakes. But when a box of take-out chicken mysteriously shows up for the First Kids, she soon finds herself in a "no-wing" situation. After Olivia refuses to serve the chicken, the First Lady gives her the cold shoulder. But when it turns out to be poisoned poultry, Olivia realizes the kids are true targets. ( description from Barnes & Noble.com)
Ollie Paras returns in another intriguing mystery in the White House Chef series. Her life is topsy turvey-she's broken up with her boyfriend, a White House Secret Service agent, and there is a new First Family on board. When an unexplained box of fried chicken shows up for the President's children and Ollie refuses to pass it on to them without knowing where it came from, a contentious relationship with the new First Lady (FLOTUS) begins. The chicken turns out to be laced with arsenic and the Secret Service won't tell the First Lady for security reasons. To top it all off, the FLOTUS brings in a personal chef for the family and he thinks he's in charge of the kitchen. Add in a terrorist plot, an old relationship rekindled, and a state dinner and you have a fast and frenzied mystery. I especially enjoy all of the information about how things work in the White House. An example-the First Family has to pay for all of their personal food-not the taxpayers. There is a selection of recipes at the back of the book. I have tried some of them and they are pretty good.
Just a note, if you have not read the earlier books in the series, I would recommend doing so. They are State of the Onion,Hail to the Chef, and Eggsecutive Orders.